Settlement Stories That Warm the Heart Long After the Paperwork Is Signed
The following true settlement stories – names, faces and specific details changed to protect privacy – remind us all how much this really means to people when they come out the other side of tragedy and look back years later.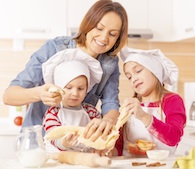 Return on structures in line with success of average investor.
Tina Thankful for Attorney's Wise Council on Investments
Tina knew the news was bad when her parish priest came to the door in the middle of a Tuesday morning. Earlier in the day, her husband, Luke, had been electrocuted while repairing a power line for the county utility company. Only 25 at the time and four months pregnant with the couple's second child, Tina spent the next year in shock.
After Tina settled her third-party suit against the manufacturer of the bucket truck that Luke had been working in that fateful day, her attorney could see that the young woman was struggling with how to sort through all the advice she was getting from friends and family on how to best invest the money. She pointed out that while many people in Tina's situation are swayed by the glamour of various investment management products, the return on a structured settlement would be very close to what market history shows the average investor earns on a balanced portfolio (i.e., one with stocks, bonds and cash instruments) after taxes and management fees.
Furthermore, a structure required no ongoing management or decision-making. In the wake of Luke's accident, Tina was now doing double duty and had to make a lot more decisions. Her attorney said the structure would "have her back" financially, giving Tina freedom from worrying about the financial aspects of her new life.
Tina followed her attorney's advice and later thanked her for the wise counsel. "When Luke died, I could barely get out of bed, let alone make all these important decisions for myself and the kids. Knowing that I would always get that check every month took a huge weight off my shoulders."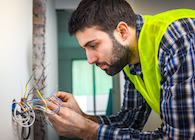 Jim turned a small settlement into a bright future.
Bridge Plan Helped Jim
"Learn to Fish"
Often there's not enough money in a settlement to take care of someone financially for the rest of his or her life. That was the case for Jim's family after his wife, Jenny, died in a car accident when she was hit by a drunk driver with no insurance. Jim and Jenny only carried minimums for uninsured coverage, and to make matters worse, Jenny was the primary breadwinner.

So Jim worked with his attorney and our Ringler advisor to design a "bridge plan" that would help him cover immediate financial obligations and then allow him to go back to school for a certification as a low-voltage electrician. The structure was designed with a higher level of income initially to help Jim supplement Social Security survivor benefits while he went back to school, then tapered off a bit once he could generate more income as an electrician.

Today Jim is doing well in a field that pays great wages and benefits. "I like to say my structure taught me to fish rather than just providing me with fish forever," Jim said. "And I really appreciate that my Ringler advisor listened carefully to what I needed and designed a plan that really worked for me and my family in the short and long term."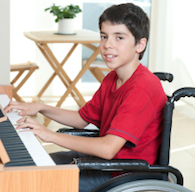 Sam's future is protected no matter what happens in market.
Sam's Beautiful Music
Takes Hurt Away
Like a lot of parents these days, Ben and Jennifer waited until they were in their 30s before having children. Their youngest son, Sam, was only 10 when he was thrown from a sled in a freak accident and suffered a spinal cord injury that resulted in paraplegia.
Both Ben and Jennifer were nearly 50 when the case was settled, so they knew they needed to plan carefully to ensure a secure future for Sam, even if they weren't around to see him through. Education was a particularly high priority given Sam's extraordinary musical talent (he was a piano prodigy from the age of 5). With the help of their Ringler consultant, Ben and Jennifer could compare and plan for the projected cost of tuition at several prominent music programs.
"Every dollar in that settlement is now worth more than a dollar, thanks to the structure arrangement," said Jennifer. "First, we know no matter what happens in the market, his money and all the tax-free earnings are guaranteed to be there when he starts college. Second, we know that the return on that money will be right in line with what the typical investor sees in equity mutual funds. We were devastated by Sammy's injury, but listening to him play now and thinking about his bright future takes some of the hurt away."
Riya's husband would be happy knowing finances are covered.
Holiday's Still Tough, but Fewer Money Worries Help
The accident that killed Riya's husband, Raj, was initially ruled a suicide. Raj was leaving a car wash when his car suddenly accelerated across a parking lot and several medians before crashing into another building. Raj was killed instantly. The police report said Raj's injuries were self-inflicted, which meant Riya could not collect benefits from their auto insurance company. But Riya and Raj were a happy couple anticipating a joyous Christmas with their three children, ages 7, 11 and 14. Riya just couldn't accept the results of the police investigation and was eventually able to prove that mechanical failure caused Raj's car to accelerate out of control.
Several years later, Riya and her children still struggle with their loss and find the holidays a particularly difficult time. But thanks to a structured settlement, Riya doesn't need to worry about family finances. She'll receive a stream of tax-free income every month for many years to come, in addition to planned payouts for each of the children when they become adults.
"We're very sad missing Raj," Riya said. "But he would be happy knowing we didn't have to worry so much about money. That was always very important to him."