Bridge Plans Help Transition Injured
People to a Better Future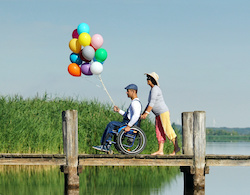 Consider bridge plans in settlements below potential full value.
You may find yourself working with someone who has lost the ability to perform the critical tasks of their historical occupation due to a major injury, but yet, can still work. In other scenarios, you may be working with a non-employed or under-employed spouse in a wrongful death case. In cases where liability issues or policy limit restrictions may lead to a settlement below the potential full value, consider "teaching them how to fish" – instead of just "giving them some fish." Here's how…
First of all you don't need all the answers, right away, at the time of settlement. What you do need, however, is a working budget of what resources will be necessary to get from Point A to Point B, even if we don't know yet what and where that is. Here is a short list of things to consider:
How much income is necessary to run the household?
How long will it take to make a transition to a new career?
Will it take time to become productive in that new career?
EXAMPLE:
Ruis is an individual who was working in a job requiring out-of-town travel with heavy physical demands. Because of orthopedic injuries, he can no longer perform adequately to maintain that position. He has always had an interest in real estate, but the idea of changing careers just never seemed like it fit well into his family's timeline. Enter…the BRIDGE PLAN:
Total settlement:

$475,000
Net recovery after attorney fees and costs:

$300,000
Cash needed to pay off personal debts:

$35,000
Cash needed to establish emergency fund:

$50,000
Amount to be structured:

$215,000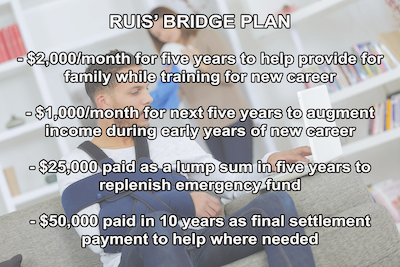 Click image to see plan at full size.
FAST FORWARD:
While Ruis still has some limitations from his injuries, he now enjoys a higher income than that from his previous occupation. He also has a more flexible schedule and travels less. As a result, his quality of life has, in some ways, markedly improved. The key is often being willing to move forward – even if one doesn't know which way forward is – at the time of settlement.
"I wanted a perfect ending. Now I've learned, the hard way, that some poems don't rhyme, and some stories don't have a clear beginning, middle and end. Life is about not knowing, having to change, taking the moment and making the best of it, without knowing what's going to happen next. Delicious Ambiguity." – Gilda Radner
What if someone's injuries limit them to a job that will pay less than they have historically earned? The solution may be to add a long-term INCOME SUPPLEMENT to the bridge plan. This can often be done for a surprisingly reasonable amount, as the income generated by a structured settlement is non-taxable, e.g.; $20,000 of lost GROSS pay equates to something more like $12,000 of lost NET or "take-home" pay. A structured settlement paying a benefit of $1,000/month can fix the problem.
Whatever the issues that present in a case, odds are your Ringler Settlement Advisor can help you develop some creative solutions to help people find their own path from Point A to Point B. Give us a call today to brainstorm with you about the possibilities.