John Muir, CCLA, CPCU
2501 E. College Ave, Ste A
Bloomington, IL 61704
10805 Sunset Office Dr, Ste 300
St Louis, MO 63127
309-662-0569 (Bloomington) 314-238-1353 (St. Louis)
309-410-5000 (Fax)
(309) 826-7318 (Mobile)
---
FROM MY DESK:

Spoiler Alert – Structures and Admin Win
Dear Colleague,
Check out this month's feature story on how pairing a structured settlement and professional administration for a Medicare Set-Aside (MSA) can provide valuable protection to an injured party. We present two case scenarios so you can see the side-by-side financial advantages versus funding an MSA with a lump sum.

Professional administration also clears a path through the red-tape thicket often associated with an MSA, which would otherwise burden the injured party. As we regularly work with both the financing and technical details of an MSA, don't hesitate to reach out for more information.
THERE'S MORE.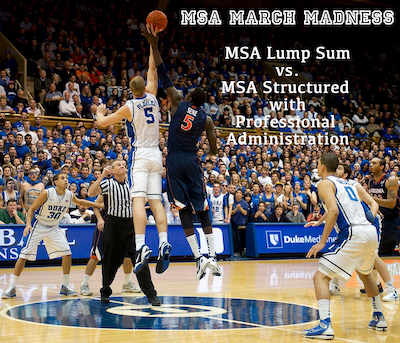 You've seen this matchup before:
The combination of a structured settlement and a Medicare Set-Aside that is managed by a professional administrator is touted as the best way to protect settlement dollars for an injured party. When hit with unexpectedly high medical costs, as the thinking goes, the pairing of these two services allows the injured party to access more coverage from Medicare and pay fewer dollars out of pocket.
In keeping with the spirit of March Madness, we decided to put this assertion to the test for "Team Joe" and a $200,000 lump-sum settlement vs. the challenger: professional administration and structured settlements.
---
Ringler Radio Double Feature
* Youth Sports Concussion Prevention
* Former Hockey Players and Concussions
Settlement Strategies
Structure Helps Worker Train for Online Career